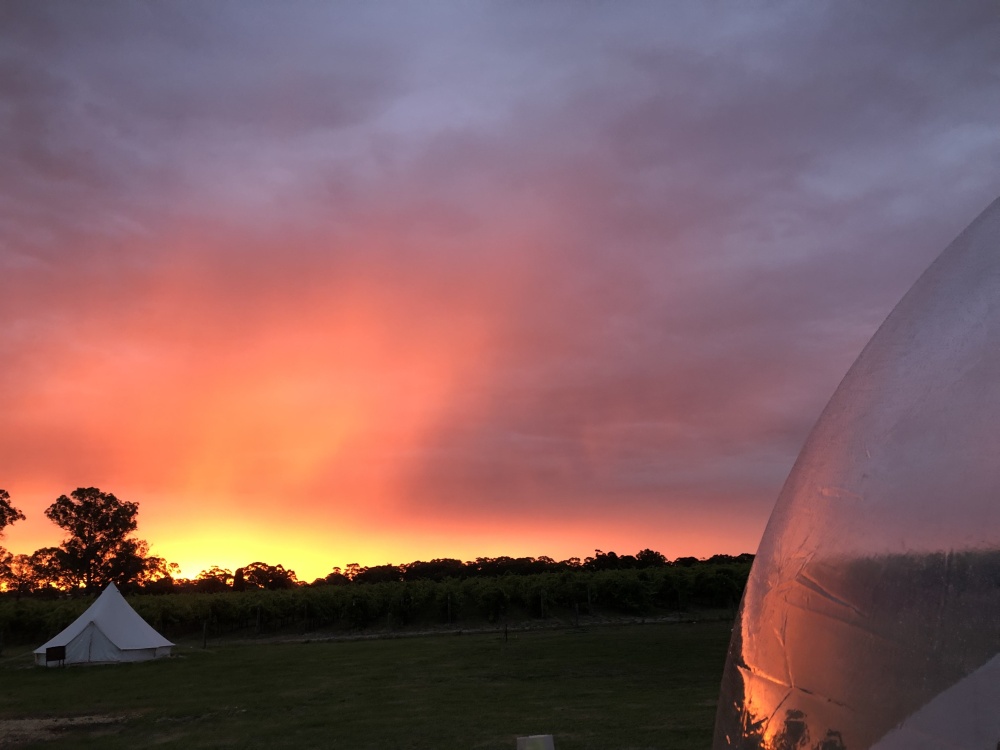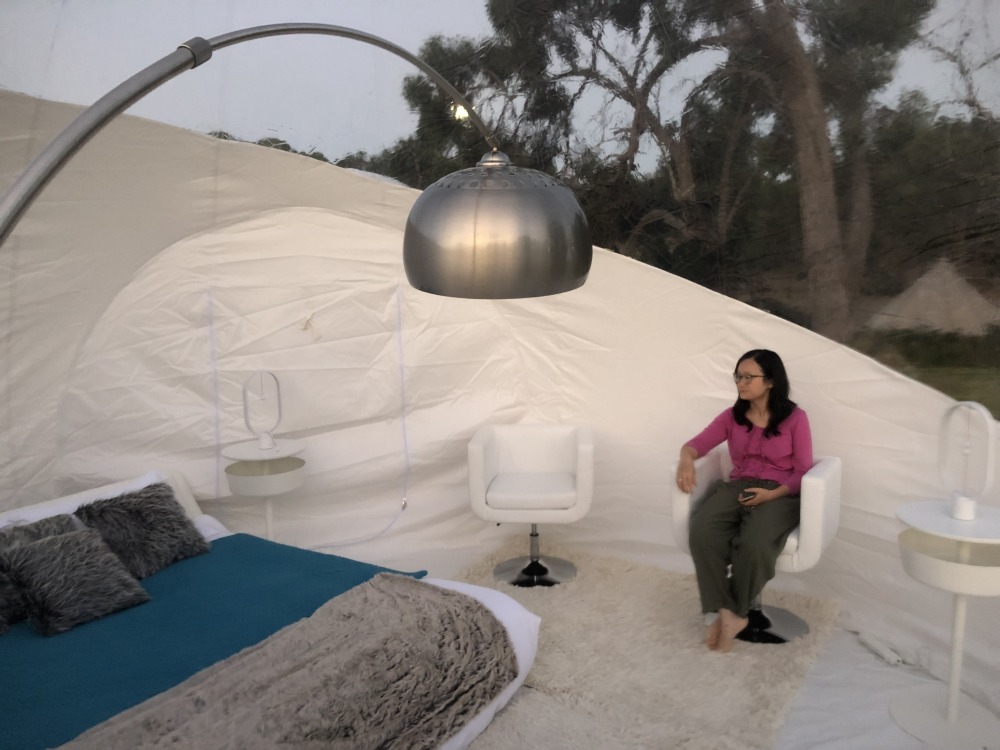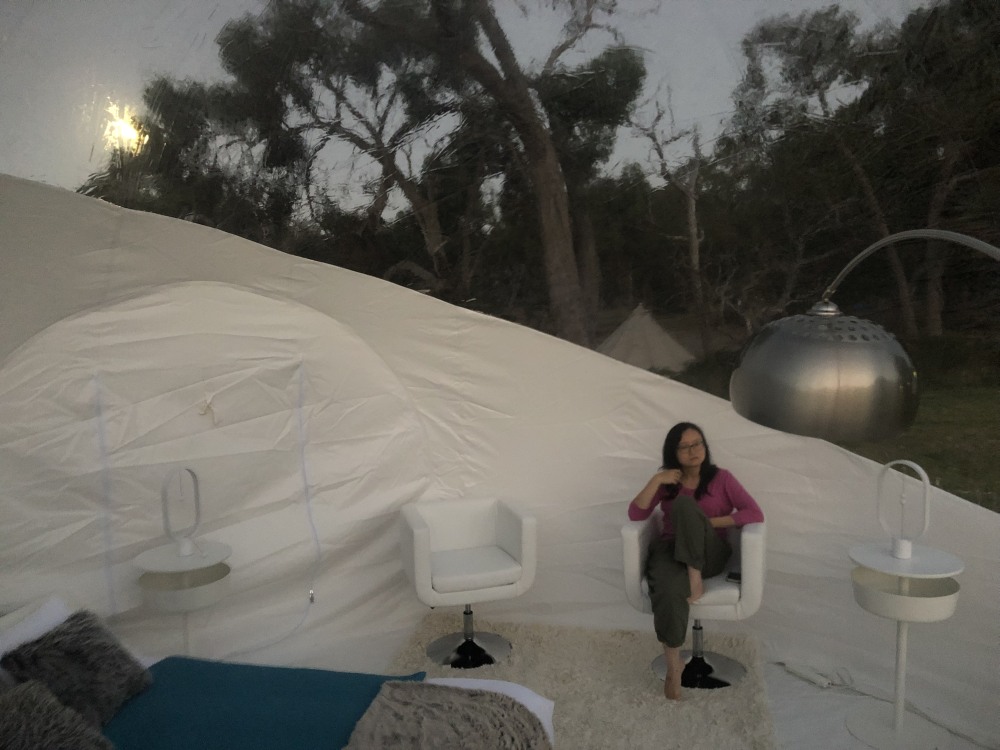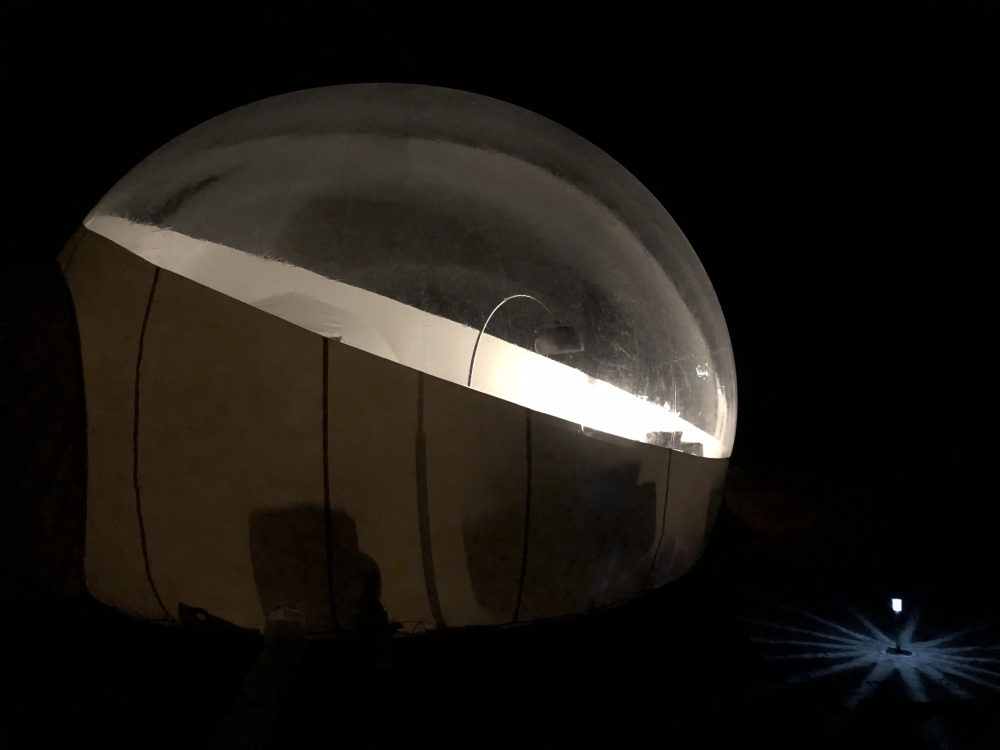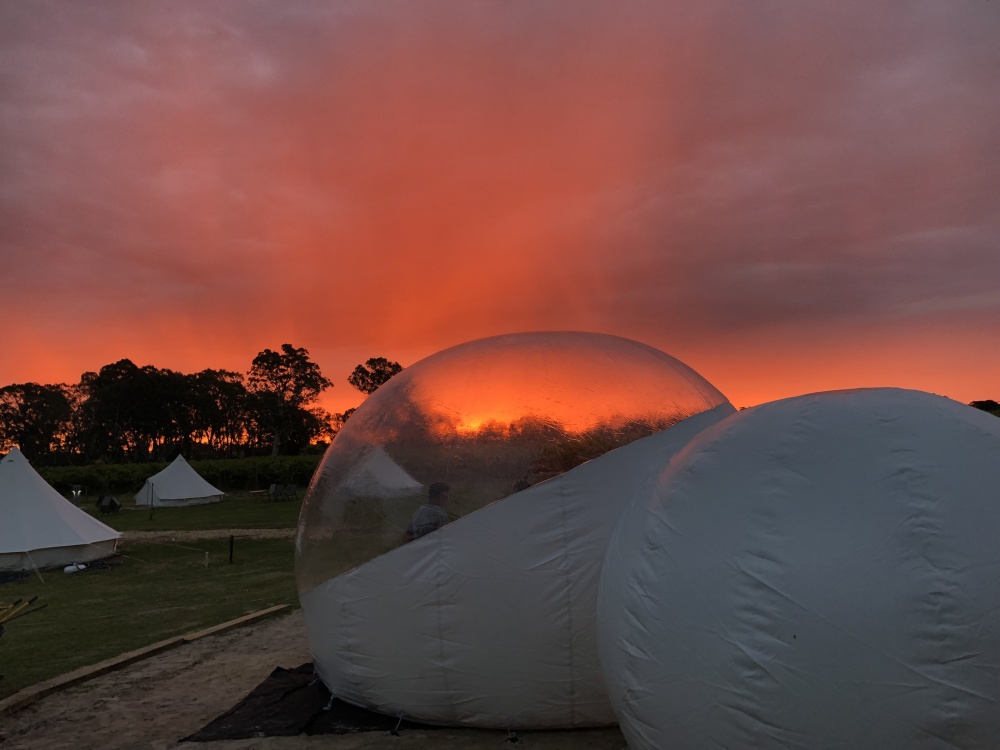 FUTURISTIC VINEYARD EXPERIENCE
This unique bubble tent provides a truly memorable experience. Enjoy the health benefits of living in a positive air pressure environment, brilliant night time 360 degree star views and 100% climate control.
Made of durable clear plastic with a privacy screen, the bubbles are kept inflated with a silent inline fan which maintains air pressure slightly below sea level. No insects can enter. Fresh air is always guaranteed as well as great views over the vineyard.
A privacy curtain ensures you can be seen in your bubble only when you want to.
The bubble contains a portable toilet, fridge, hot and cold water dispenser, ultra modern furniture and a king size bed, with 1200 TC Egyptian cotton linen included.
All bookings receive a bottle of the vineyard's Coonawarra Sauvignon and a block of hand-made Red Cacao chocolate.
Be the first of your friends to try staying in a bubble - there are only 3 in Australia, only one in South Australia - and this is it!
Beta Trial Special Rate for limited time only.

This apartment is ideally situated only minutes away from other award winning wineries, restaurants and the other tourism attractions of the Limestone Coast region.
The standard rate is $199 per couple, but for a limited time the Bubble Beta Trial rate applies from only $129 weekends and $109 weeknights.
WE HAVE CHINESE SPEAKING STAFF
FEATURES
Unique lifestyle apartment - 2 rooms and airlock.

1 Bedrooms - 1 King - Sleeps 2 (children can be accomodated)

Fridge, hot and cold water dispenser, modern designer furniture.

P:ortable toilet in ensuite.

All Linen Supplied and Bottle of Coonawarra Wine

Outdoor/indoor kitchen area with BBQs, seating and a glorious view of the lake and vineyard

R/C Air Conditioning, fans.

Free WiFi -+ Bikes and helmets for guests to use

Archery, wine tasting and other activities available

Not suitable for children under the age of 15 years. NOT pet friendly
Booking conditions
Minimum 2 night stay all SA/VIC Long Weekends, Local Festivals and Events, 2 nights over Christmas and New Year periods.
3 Night minimum stay required over Easter weekend.
No pets, no children under 15.
Payment: You will be required to secure the booking with a credit card and full payment is due on arrival. You will receive all required information automatically by email and SMS.
We accept major credit cards, Visa, MasterCard and AMEX(+3% process fee).